PORTUGUESE LANGUAGE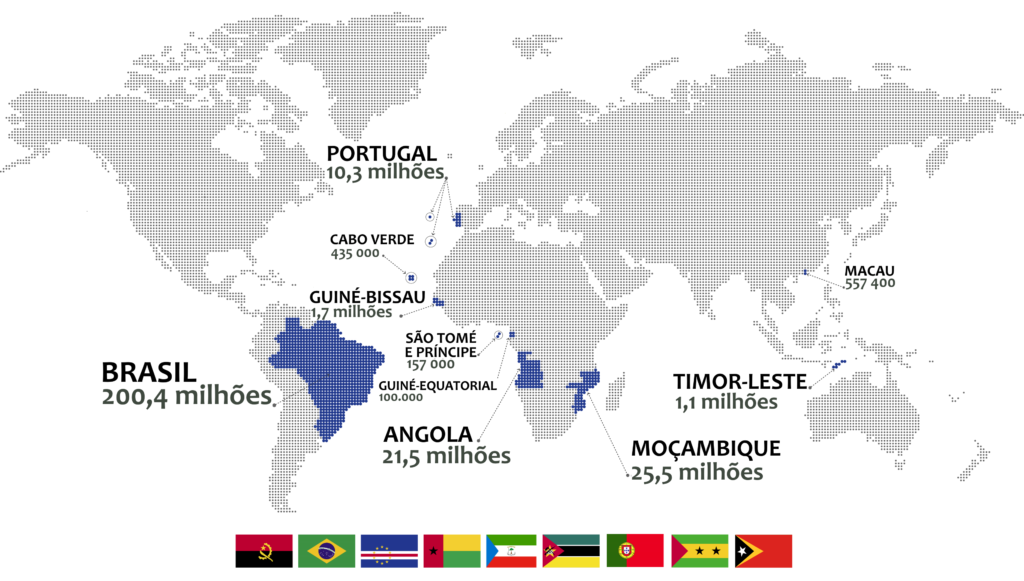 The Portuguese language serves more than 260 million people daily, more than 200 million in Brazil, 10 million in Portugal and 50 million in Africa. It is the fifth most spoken language in the world. This number does not include the Portuguese diaspora, estimated at approximately 10 million people in 34 countries, and millions who use it as a second language worldwide.
Portuguese is a truly globalized language. Nine independent countries in 5 continents have Portuguese as an official language. Brazil and Portugal are the two primary Portuguese speaking nations and it is also the official language in Angola, Cape Verde, East Timor, Equatorial Guinea, Guinea-Bissau, Mozambique, and São Tomé and Príncipe.
Portuguese is an official language of the Organization of American States, the European Union and the African Union.
European and Brazilian Portuguese are mutually intelligible. Portuguese uses only these two dialects for learning. The form of Portuguese spoken in Brazil is a little different from that spoken in Europe in pronunciation, vocabulary and spelling. Ideally the chosen translator is a native speaker of the standard variety of the target country.
Portuguese is one of the fastest-growing languages in the world. According to estimates, by 2050 Brazil is expected to have a population of 350 million and the Portuguese-speaking countries in Africa, a combined population of 83 million.
With such a huge and growing Portuguese-speaking population, unexploited resources and great development potential, investing in Portuguese language will not leave you unrewarded.

São Paulo, Brazil, is the city with the greatest number of Portuguese-language speakers in the world (20 million).